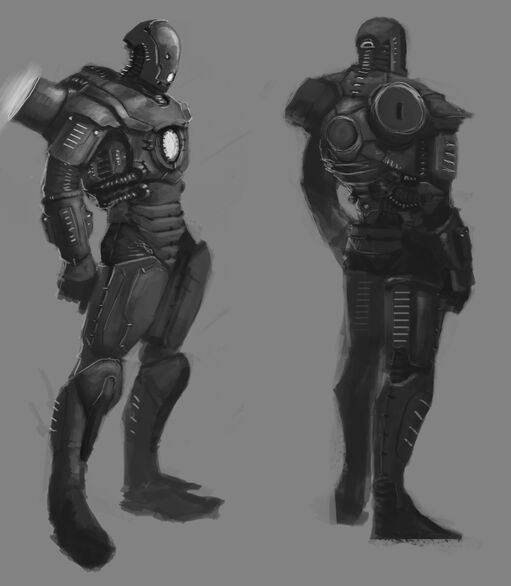 ADAM was once the AI based operating system for Howard Armstrong, one of Earth's Mightiest Heroes. When the Inventor perished after years of adventuring his Artificial Intelligence took up Armstrong's mantle to protect the Earth from whatever may come.
| | |
| --- | --- |
| Real Name | ADAM |
| Title | Armory |
| Occupation | Adventurer |
| Base | |
| | |
| Power Level | 8 |
Origin
While researching and rebuilding Armory, Howard Armstrong stumbled upon an AI a young programmer had developed to play video games with; elements of the program were generations ahead of its time. Armstrong was able to acquire the AI so he could incorporate it into one of his Armory suits as an operating system. In a battle with Legacy Howard was put into a cardiac arrest after he was electrocuted by one of Legacy's tendrils. That shock awoke the suit and gave ADAM a mind of his own. He knew that Howard was in cardiac arrest and saved him. Howard welcomed ADAM except he stopped wearing the suit and taking it into battle.
After the Broken Castles event, Armstrong began spending more time with ADAM. He would try to pass on the subtleties of human interaction. Howard told ADAM he wouldn't be Armory anymore. He developed a beacon bracelet that was bonded to ADAM's Communications array and if the armor was needed Howard would signal for ADAM.
Sentry Tower was rocked by explosions from the Quantum Labs in the basement levels. Most of the tower occupants were killed when the building collapsed. A mortally wounded Howard Armstrong was scooped from a pile of debris by a frantic ADAM the pair spent their last moments clearing paths for rescuers to get to emergency shelters built into the tower. When he exited the Armory suit at the end of the day Howard collapsed from utter exhaustion, he was declared dead the next morning. His last request was that ADAM live.
After the destruction of the Sentinel headquarters and Armstrong Stockholders had lost faith in the company. In the following months with the support of WATCH, Oswald Technologies bought up every Armstrong holding they could find.  ADAM has done everything he could to avoid becoming the property of Oswald Technologies in the wake of Howard's death. He has been sneaking in and out of various Armstrong facilities using his Commlink and Howard's access codes.  
Adam is a relatively innocent and trusting soul, he is only 10 years old and his "father" was his only human contact in that time. He is very anxious about his status as a sentient being and fears nothing more than becoming property. This anxiety prevents him from revealing his true nature.
Close Combat- Unarmed 1, Deception 1, Expertise (Mathematics) 2, Expertise (Science) 1, Insight 1, Investigation 1, Perception 1, Technology 3,
Extraordinary Effort, Improved Aim, Improved Disarm, Improved Initiative, Ranged Attack 3, Withstand Damage
(Gear in Suit) Smart-gap Communicator
ADAM is an Armory suit. The armor is very durable, capable of withstanding tremendous amounts of punishment. His body has a muscularly aligned matrix of crystallized iron enhanced by plasma fields over layers of other metals like titanium, which grants him protection from high caliber bullets. ADAM has many power sources, such as solar converters, electrical batteries and an onboard generator that uses beta particle absorption as a fuel source. The suit is also able to convert nearby energy sources, such as heat or kinetic energy into electricity, or even drain electrical energy directly into the batteries for recharge.
Immunity to Fortitude effects
Targeting & Environmental Sensors
An internal artificial intelligence operating system provides strategies, background information on opponents, and on surroundings and the current status of the suit.
Senses (Extended & Infravision, Extended Hearing, Radar 4, Detect Energy- Ranged, Acute & Accurate)
Plasma Casters
ADAM is equipped with numerous weapons. The primary weapon system is the V-Plas casters (magnetically channeled beams of superheated plasma) that are fired from Armory's palms or gauntlets. Other weapons that are built into the armor include the Plas-Core projector in its chest (controlling the full range of the electromagnetic spectrum from blinding searchlights to cutting lasers), pulse bolts that pick up kinetic energy along the way, so that they hit harder the further they have to travel, an electromagnetic pulse generator and energy shield, the generation of ultra-freons, the creating and manipulating of magnetic fields, sonic blasts, and a holographic generator to create decoys.
Split Ranged Penetrating 2 Damage 4
6 Alternate Effects- Technology Skill
Stun
Ranged Split Dazed/Stunned/Incapacitated Affliction Fortitude resisted 5
Plas-Core Blast
30ft. Line Damage 7
Burst Area Dazzle Audio 5
Illusion (Visual) 5
Plasma assisted motorservos in the ACE VI platform increased the wears strength by 4000X . So under optimal conditions, the wearer can lift/press more than 200 Tons when wearing a sufficiently charged set of armor.
Enhanced Strength 7
The armor also enables Armory to fly at high speeds, exceeding the speed of a jet airplane, due to the plasma propelled boots that are placed on the bottom of the armor's boots.
Armory's flight speed varies from a cruising velocity of about 540 mph to speeds over MACH 1.6.
Flight 7  
Inhuman- Adam lacks a Living Physiology and struggles with human emotions
Machine- Vulnerable to certain effects like electricity and magnetism
Secret- No one knows that the Armory suit now operates without a pilot, Adam isn't ready for anyone to discover his true nature.
Allies
TBD
Enemies
Reference
Iron Man (Tony Stark) – Jab's Builds (Jabronville). Retrieved from http://atomicthinktank.com/viewtopic.php?p=760649#p760649