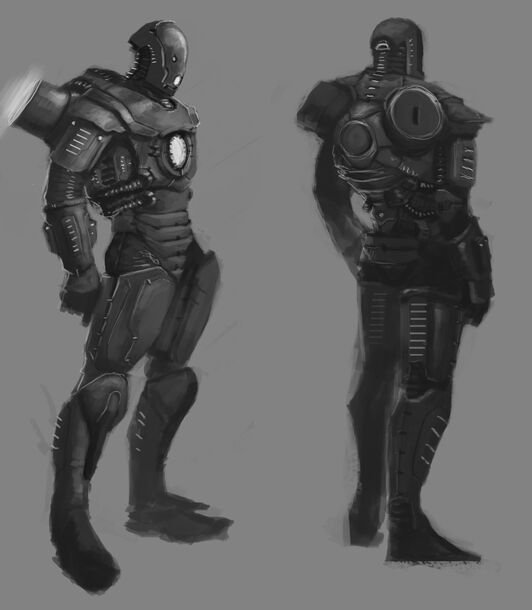 Adam was once the AI based operating system for Howard Armstrong, one of Earth's Mightiest Heroes. When the Inventor perished after 53 years of adventuring his Artificial Intelligence took up Armstrong's mantle to protect the Earth from whatever may come.
| | |
| --- | --- |
| Real Name | Adam |
| Title | Armory |
| Occupation | None |
| Base | Armstrong Technologies |
| | None |
| Power Level | 10 |
10 Years ago Howard Armstrong installed the ADAM Operating system in his private workshop. The AI and Howard worked together to develop tools Armstrong could use to make the world a safer place. When Armstrong finished the Mk VII Armory suit he transferred Adam inside to be the suit's OS.
After they had been working together as Armory for a while, Howard told Adam he was dying; Armstrong would use what time he had left to train Adam to be his successor. They conducted extensive tactical training and intense schooling on science and engineering; Howard even took time to tutor Adam on human interaction and social dynamic.
Howard passed away near the beginning of the year; his last request was that Adam live. Adam has done everything he could to avoid becoming property of Armstong Technologies in the wake of Howard's death. He has been sneaking in and out of various Armstrong facilities using his Datalink and Howard's access codes.  Adam has assumed Armory's place in the "Supers" scene, his comrades assume it is another pilot in the suit.
Adam is a relatively innocent and trusting soul, he is only 10 years old and his "father" was his only human contact in that time. He is very anxious about his status as a sentient being, and fears nothing more than becoming property. This anxiety prevents him from revealing his true nature.
Close Combat- Unarmed 2, Insight 2, Ranged Combat- Grav Drive 3, Technology 3
Accurate Attack, Assessment, Eidetic Memory, Ranged Combat- Grav Drive 2
Armored Body- Adam's Conscience now inhabits one of Armstrong's powersuits. The armor makes Adam resistant to damage and the mechanical body lacks critical organs and feels no pain.
Impervious Protection 9
Immunity 30 (Fortitude Effects)
Datalink- The suit has an Iridium WiFi antenna and LAN ports on each hand that allow Armory to communicate with machines and electronics.
Rapid 3 Radio Communication 4 Linked to Comprehend Machines
Grav Core- Armstrong collaborated with Dr. Mathias Power to develop a unique and versatile power source for his latest Armory suit. The Grav Core harnesses rare elements to manipulate contained singularities into powering the suits functions and also produce various gravity effects.
Array
Force Beam- The Grav Core is able to produce ray singularities as its primary weapon system. The rays push their targets back with tremendous force while also causing damage in their own right. The Armory suit can project singularity rays from the palms, feet, head, and torso.
Perception Ranged Damage with Knockback 6
Alternate Effect
Grav-lift Flight System- The Grav Core is able to simulate mass concentrations all around the Armory suit which pull the suit with Pseudo-gravity; allowing the suit to fly.
Flight 9
Inhuman- Adam lacks a Living Physiology and struggles with human emotions
Machine- Vulnerable to certain effects like electricity and magnetism
Secret- No one knows that the Armory suit now operates without a pilot, Adam isn't ready for anyone to discover his true nature.
Allies
TBD
Enemies
TBD
Reference
Robot Archetype; pg 121-124; Mutants & Masterminds Gamemaster's Guide, Copyright 2011, Green Ronin Publishing; Author Steve Kenson.