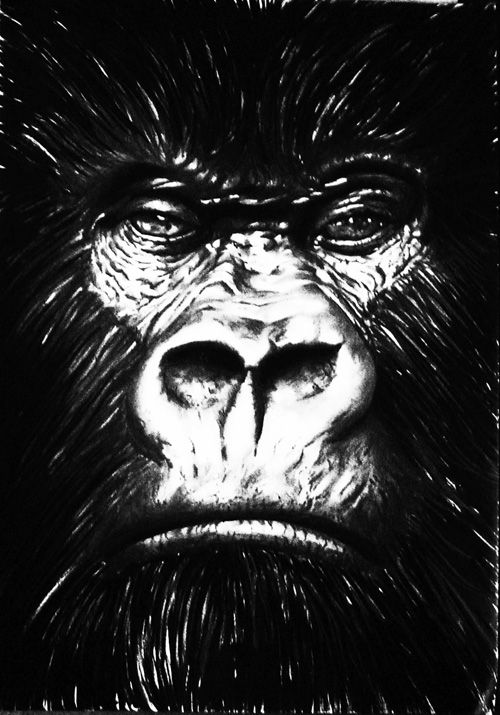 An intelligent, superpowered gorilla, who uses his gifts to fight crime and learn about humanity.
| | |
| --- | --- |
| Real Name | Caesar |
| Title | Action Ape |
| Occupation | - |
| Power Level | 8 |
A special gorilla was born to an average troop in Africa in 1954. He was faster and stronger and more intelligent than his peers. Despite this he was eventually captured and put into the zoo. He was drawn to learn about humans, and learned to escape his enclosure at night to roam the streets.
He frequently watched movies at a drive-in while hiding in a tree, and in 1972 he saw "Conquest of the Planet of the Apes". His mind reeled, and he became convinced that this was a vision of an alternate future that he came from. That was the only explanation in his mind as to how he was so different from other apes. He vowed to be a friend to humanity and do good deeds for them in order to prevent this bleak future from happening. He became obsessed with the Planet of the Apes, and eventually found a copy of the book in a box left outside a Goodwill donation center. He named himself Caesar, after the chimpanzee leader in the book.
He has been fighting crime for many years now, and he is anxious to go public. The papers have been running small stories here and there about weirdos claiming to have been helped by a huge monkey who moves really fast and is super-strong. The papers call him "Action Ape". Caesar kind of likes the moniker
| | |
| --- | --- |
| | 4 (+7) |
| | 1 (+4) |
| | 6 (+7) |
| | 5 (+6) |
| | 8 (+10) |
Acrobatics +8, Athletics +10, Close Combat (Unarmed) +10, Deception +5, Intimidate +8, Perception +8, Stealth +8
All-Out Attack, Animal Empathy, Defensive Roll 3, Fast Grab
Born to be Wild
Ape Senses: Low-light vision, Acute Smell
Senses 2
Ape Mobility: Safe Fall, Wall-Crawling, Sure-footed, Swinging
Movement 4
Super Speed: Speed 5
Super Jump: Leaping 4
Acceptance- Caesar wants to be accepted into human society.
Doing Good. Frightened by the vision of a future where apes and men are enemies, Caesar wants to help humanity and be an ambassador for Apekind.
Animalistic Appearance- Caesar is too smart to live with other gorillas, but humans are slow to accept him because of his appearance.
Back by Feeding Time- Living at the zoo means that Caesar can only go crime-fighting at night after the zookeepers have gone home for the day. Feeding time is 5am every day and he must be in his enclosure by that time or else his secret will be revealed.
Human Fascination- Caesar cannot help himself when it comes to learning about human culture. He will sneak into late-night movies or steal small human items in order to learn more, even if it puts him at risk of being found out.
Allies
TBD
Enemies
TBD
Reference
Action Ape Character Sheet- https://app.roll20.net/forum/post/5119382/character-sheets Created by Zack A.
Ad blocker interference detected!
Wikia is a free-to-use site that makes money from advertising. We have a modified experience for viewers using ad blockers

Wikia is not accessible if you've made further modifications. Remove the custom ad blocker rule(s) and the page will load as expected.