Captain America's most recognizable vehicle, is a custom Harley-Davidson motorcycle.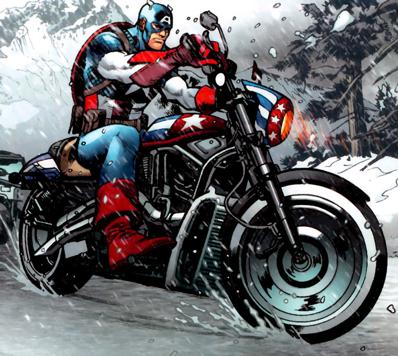 | | |
| --- | --- |
| | Cap's Bike |
| Owner | Steve Rogers |
| Size | Medium |
| | 1 |
| | 8 |
| Defense | 10 |
| | 6 |
History
Captain America while living in Brooklyn Heights stored the motorcycle in a service garage operated by Richard Dumbrowski. Captain America often kept his motorcycle in his van and took it wherever he traveled. The cycle suffered a head-on collision, but apparently was restored to service.
Captain America has continued to use motorcycles on numerous adventures. Most recently, it was revealed that he stored a motorcycle on the roof of his Brooklyn apartment. This particular motorcycle does not have the distinctive red, white, and blue paint job of the one created from him by Jonathan Coulson. It is undetermined if Cap's present motorcycle is the original custom Harley-Davidson from Coulson.
Features
TBD
References
D20 Hero SRD Vehicles Article- http://www.d20herosrd.com/7-gadgets-gear/vehicles/
Marvel Database Captain America's Motorcycle article- http://marvel.wikia.com/wiki/Captain_America's_Motorcycle
Ad blocker interference detected!
Wikia is a free-to-use site that makes money from advertising. We have a modified experience for viewers using ad blockers

Wikia is not accessible if you've made further modifications. Remove the custom ad blocker rule(s) and the page will load as expected.