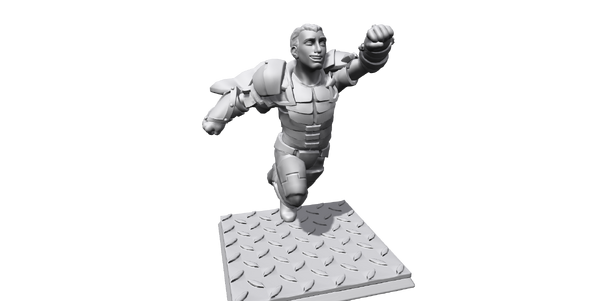 Alphamega  is a young hero that has recently appeared defending the streets of
Tudor City
.
| | |
| --- | --- |
| Real Name | Eiren Alph |
| Title | Alphamega |
| Occupation | Student |
| Base | Tudor City |
| Power Level | 8 |
Biography
Origin
Years ago a golden capsule crashed into a field outside a small town; inside was a baby boy. Ahead of the government response team; Sarah and Thomas Siegel were able to abscond away with the child.
Personality
Alphamega believes in goodness; and has an indomitable sense of right and wrong. he not only follows the ideals of truth, justice and compassion, but lives them.
Eiren Alph is Aariad, an extra-dimensional race of celestial sentinels. his developing abilities are designed in him to make him Earth's defender.
Aaron has only just arrived in the city, and is just learning to investigate; he frequently falls back on his aptitude in science to help him.
Close Combat: Brawling 2, Expertise: Science 5, Insight 5, Perception 5, Persuasion 4,  Ranged Combat: Light Attacks 5
TBD
Aariad are the decedents of powerful and ancient beings; Their bodies are conduits that store light energy and channel it into divine powers.
Flight- by redirecting stored energy Aariad bodies can negate the effects of gravity.
Flight 5
Invulnerability- Years of under-utilized light energy reinforces Aariad biological structure and processes
Enhanced Stamina 5; Impervious Toughness 8; Immunity: Cold, Heat, Pressure, Radiation, and Vacuum
Divine Speed- Aariad are able to move at dazzling speeds
Divine Strength- The same process that reinforces Aariad Stamina grants the being incredible strength.
Alphamega's eyes can emit a destructive blast of white-hot light
Ranged Damage 3
Alternate Effects
Dazzling Flash- by diffusing searing light all-around him; Alphamega becomes a sort of living flashbang that has very unsettling effects on his target.
Burst area Affliction 2 (Dazed/Shaken/Panicked)
Complications
TBD- Aaron was sent as a vangaurd for an Aariad Invasion force
Identity- Aaron hides his human identity when he conducts his super heroics.
Weakness- The alloy Infirnium disrupts Aariad cell structure; It bypasses their natural defenses and neutralizes their powers.
Allies
Rescue Squad
Enemies
TBD
TBD