Key Players

Affrickaan Government

Madame Reneau

President

Dr. David Moreau

Genegineer

Cameron Hodge

Special Advisor

Johannes Schmidt

Red Skull

Affrikaan Magistates

Tam Anderson

Supreme Magistrate

Dmitri Anatoly Nicolyevich Smerdyakov

Chameleon

Duvid Jerome Fortunov

Dominic Fortune

Gog

Renee Majcomb

The S Men

Antigone Petrakis

Dancing Water

Dangerous Jinn

Goat-Faced Girl

Tsar Sultan

Inscect

Living Wind

Mzee

Genoshan Mutates

Hawkshaw

Alex Summers

Havok

Cormick Grimshaw

Pipeline

Project Wide Awake

Honest John

Robert Kelly

Acolytes

Bennet DuParis

Exodus

Joanna Cargill

Frenzy

Max Eisenhardt

Magneto

Milan

Sara Ryall

Scanner

Skelter

Sally Blevins

Skids

Andrew Hamish Graves

Spoor

Syth

Rusty Collins

Fabian Cortez

Isaac Javitz

Katu Kath

Eric Klienseock

Harlan Klienstock

Sven Klienstock

Seamus Mellencamp

Suvik Senyaka

Carmella Unuscione

Amelia Voght

X-Men

Sean Cassidy

Banshee

UNK

Forge

Remy LeBeau

Gambit

Jubilation Lee

Jubilee

Betsy Bradock

Psylock

Ororo Munroe

Storm

James Logan Howlet

Wolverine

Lucas Bishop

Bishop

Piotr Rasputin

Colossus

Charles Xavier

Professor X

Anna Marie

Rogue

X-Factor

Warren Worthinton III

Archangel

Henry McCoy

Beast

Scott Summers

Cyclops

Bobby Drake

Iceman

Jean Gray

Marvel Girl

Valerie Cooper

New Mutants

Tabitha Smith

Boom-Boom

Nathan Christopher Charles Summers

Cable

Sam Guthrie

Cannonball

Julio Esteban Richter

Rictor

Roberto deCosta

Sunspot

Warlock

Rahne Sinclair

Wolfsbane

Jamie Maddrox

Multiple Man

Lorna Dane

Polaris

Pietro Maximoff

Quicksilver

Marshal Evan Stone III

Random

Guido Carosella

Strong Guy

Adam Neramani

Adam X

Maria Callasantos

Feral

Gaveedra Seven

Shatterstar

Professor Greymalkin

Ship

Theresa Cassidy

Siryn

James Proudstar

Warpath

Excaliber

Brian Braddock

Captain Britain

Colin McKay

Kylun

Meggan Puceanu

Meggan

Scott Wright

Micromax

Kurt Wagner

Nightcrawer

Rachel Summers

Phoenix

Kitty Pryde

Shadow Cat

Katherine Anne Pryde

Widget

Cerise

Feron

Lockheed

Moira MacTaggert

Avengers

Dane Whitman

Black Knight

Steve Rogers

Captain America

Hank Pym

Giant Man

Crystal Maximoff

Hercules

Luna Maximoff

Marilla

Sersi

Avengers West Coast

Clint Barton

Hawkeye

Wanda Maximoff

Scarlet Witch

Julia Carpenter

Spider-Woman

John F. Walker

USAgent

Vision

James Rhodes

War Machine

SHIELD

Timothy "Dum Dum" Dugan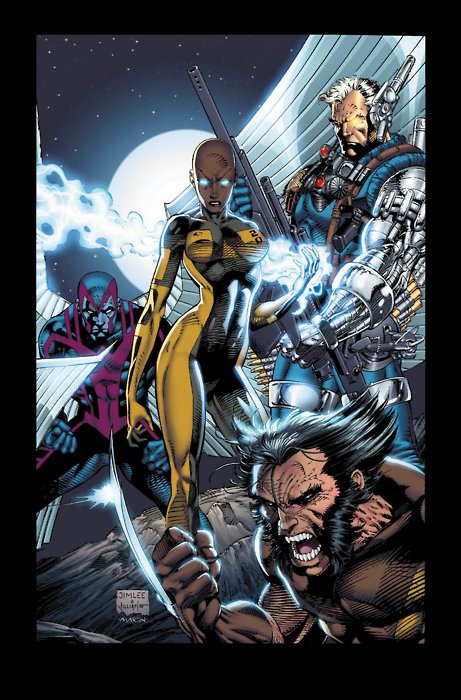 Affricka is a nation that takes up the southern coast of Africa; it tests every citizens for mutant genes. If tested positive one becomes property of the state. In a special process designed by Genegineer David Moreau the person is labotomized and turned into a mutate to serve the state.
Since the X-Men once had a conflict with Affrickaan forces they (and associated people like X-Factor and the New Mutants) are now considered enemies of the state. When least expected Affrickaan forces attack Xavier's school and take prisoners. Later the remaining mutants try to rescue their friends and are captured too, two of them are even turned into mindless mutates.
Prologue
Someone has broken into the X-Mansion, the culprit broke into the compound's computer network and accessed some of Xavier's most sensitive files. Professor X has mobilized his X-Teams that data must be retrieved.
Storylines
The Extinction War Event runs in 3 distinct and Concurrent storyline that follow the varied factions of the Extinction War
Extinction Agenda
Affrickaan Magistrates mobilized a new program called "Pipeline" which allows them to go after fugitives and enemies of the state anywhere in the globe and bring them to answer for their crimes back in Affricka. Having proven himself a tracker without peer, Orion Kravenoff has been promoted to Chief Magistrate and has assembled his own Pipeline team; Chameleon, Gog, and Dominic Fortune. The Hunter's first mission is to apprehend Sean Cassidy, the Banshee. Orion's team was able to capture the X-Man and bring him into custody back in Affricka. While prossessing Banshee into the Citidel Fortune saw a group of blank eyed prisoners being shuffled into the lower levels of the prison. Dominic was eventually able to convince Orion to let the team investigate. The team was not able get into the high security sublevels but they did uncover several references to the "Extinction Protocols" in Hidden Files and deleted documents.
Kravenoff was no longer simply tolerant of the investigation, he was intrigued; Orion was on the hunt. Through continued investigation the team made contact with Renee Majcomb another Chief magistrate who is doubting her mission because of the mysterious "Extinction Protocols". They compared notes and decided they would work together to stake out Tam Anderson, the Supreme Magistrate. From Magistrate Anderson's terminal Dmitri was able to pull up information on Phase 1 of the Extinction protocols. Phase one involved the implementation of Genetic testing for the entire Affrickaan population. To be followed shortly by the segregation of the Mutant and Non-Mutant populations. They knew that if they were to find more they would have to investigate Dr. David Moreau, The Genegineer.
Majcomb and Fortunov were able to access the Genegineer's office, where they were greeted by Cameron Hodge now a disembodied head attached to a cybernetic hulk. Hodge subdued both of them
Fatal Attractions
TBD
Bloodties
TBD
Oganizations
Genoshan Government
Magistrates
Magistrate Elite
Mutate Rebellion
Unforgiven
Mutate Conscripts
Genoshan Mutate Rights Movement
Bipartisan Rebel Battalion
Acolytes
Avengers
Avengers West Coast
X-Men
New Mutants
United Nations
X-Factor
Locations
Affricka
Hammer Bay
Havershaw Heights
The Citadel
Avalon
Metropolis
Avenger's Mansion
Muir Island
Happy Harbor, Rhode Island
Xavier's School for Gifted Youngsters
X-Mansion
Camp Hayden, Kentucky
Fallout
TBD
References
Comics Vine X-Tinction Agenda Article- http://www.comicvine.com/x-tinction-agenda/4045-42177/
Marvel Comics Database X-Tinction Agenda Article- http://marvel.wikia.com/X-Tinction_Agenda
Uncanny X-Men Net X-Tinction Agenda Article- http://www.uncannyxmen.net/db/crossover/showquestion.asp?fldAuto=202 -Author : Peter Luzifer
Wikipedia X-Tinction Agenda Article- http://en.wikipedia.org/wiki/X-Tinction_Agenda
Comic Vine Fatal Attractions Article- http://www.comicvine.com/fatal-attractions/4045-41878/
Marvel Database Fatal Attractions Article- http://marvel.wikia.com/Fatal_Attractions
Uncanny X-Men .NET Fatal Attractions Article Author : Douglas Mangum and Iceman (Trevor Cates) http://www.uncannyxmen.net/db/crossover/showquestion.asp?fldAuto=213
Wikipedia Fatal Attractions Article- http://en.wikipedia.org/wiki/Fatal_Attractions_(comics)
Marvel Crossovers Blog Bloodties Article- http://marvelcrossovers.blogspot.com/2013/06/bloodties-1993.html
Marvel Database Bloodties article-http://marvel.wikia.com/Bloodties
Uncanny X-Men .NET Bloodties article- http://www.uncannyxmen.net/db/crossover/showquestion.asp?fldAuto=214 Author : Peter Luzifer
Wikipedia Bloodties Article- http://en.wikipedia.org/wiki/Bloodties_(comics)
Ad blocker interference detected!
Wikia is a free-to-use site that makes money from advertising. We have a modified experience for viewers using ad blockers

Wikia is not accessible if you've made further modifications. Remove the custom ad blocker rule(s) and the page will load as expected.