Strength measures sheer muscle power and the ability to apply it.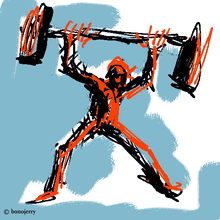 Your Strength rank applies to:
Damage dealt by your unarmed and strength-based attacks.
* How far you can jump (based on an Athletics skill check). * The amount of weight you can lift, carry, and throw. * Athletics skill checks. Debilitated Strength, Agility, or Dexterity means the hero collapses: defenseless, immobilized, and stunned (although still conscious and aware).
A creature with no Strength is incapable of exerting any physical force, either because it has no physical form (like an incorporeal ghost) or simply can't move (like a tree).
References
Mutants & Masterminds Hero's Handbook, Copyright 2011, Green Ronin Publishing; Author Steve Kenson. Chapter-3 Abilities, Pg 54-59
D20Hero SRD Ability Article- http://www.d20herosrd.com/3-abilities
Ad blocker interference detected!
Wikia is a free-to-use site that makes money from advertising. We have a modified experience for viewers using ad blockers

Wikia is not accessible if you've made further modifications. Remove the custom ad blocker rule(s) and the page will load as expected.